Bridgestone Blizzak – buyer's guide
By: Discount Tire

Depending on where you live, the use of winter tires can be one of the most important decisions you make in terms of your safety on the road. In regions that get regular snow and icy conditions, some things to consider are how winter tires work, why (and when) to make winter tire changes, comparisons versus tires used throughout the remainder of the year, and much more to keep you safe within our Tips & Guides.
You need to prep your vehicle for temps below 45 degrees, especially (and literally) where the rubber meets the road. A primo choice for winter/snow tires? Bridgestone Blizzak.
In production for over 25 years, the Bridgestone Blizzak family of winter tires is wildly popular and recognized as one of the most reliable. Their studless tread design and Multi-Cell technology tread compound have won over countless independent online reviewers. (We're not exaggerating; a simple search for "Blizzak" on YouTube results in video after video from all corners of the globe with a level of excitement and enthusiasm you wouldn't expect for tires, let alone winter tires.)
Of course, there are several Blizzak variations to choose from, including performance and light truck/SUV models. We'll examine them here to help you decide which Blizzak is best for you and your vehicle.
Blizzak WS90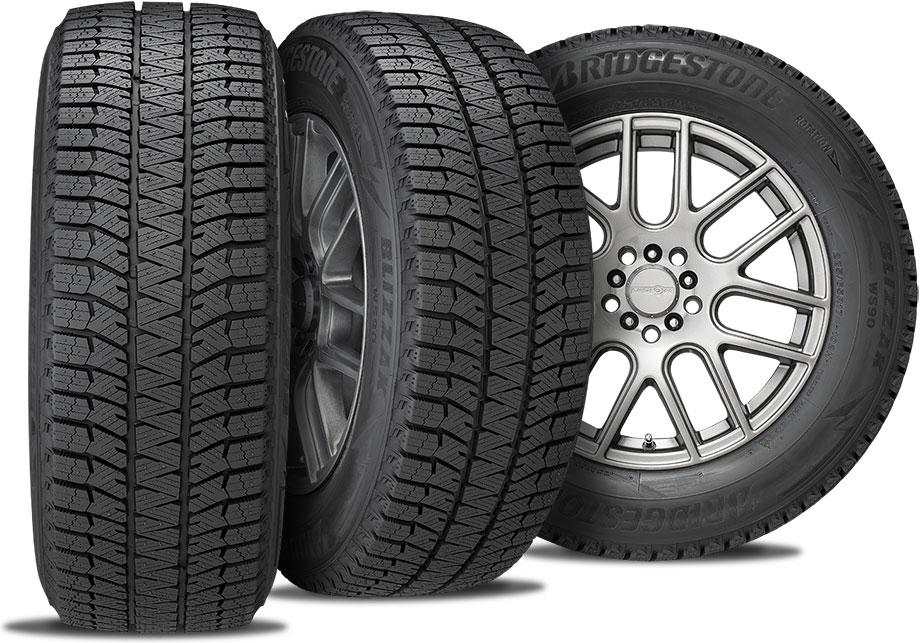 The place to start when talking about the Bridgestone Blizzak is their latest improvement on their classic design: the Blizzak WS90. Introduced in early 2019 and building on the WS80 and WS70 designs, Bridgestone developed these for sedans and minivans. The goal was "confident handling and control in challenging winter conditions."
It appears they have succeeded.
How do they work? As Bridgestone explains, in addition to the physical design of the treads with interlocking sipes and multiple edges, their Multi-Cell tread compound is "hydrophilic" (meaning "water-loving"), which pulls water away from the surface of the ice on the road to provide better grip and shorten the distance needed to stop your car.
On top of the improved braking distance on ice, the WS90 provides "enhanced wear performance." This is a fancy way of saying they'll last longer than other winter tires. Depending on the average number of weeks with winter conditions in your area, you could get an entire extra season of winter driving out of these tires versus the WS80.
But maybe the best feature of these tires is the cost. For the safety and confidence you'll gain in rough winter weather, the WS90 and other Blizzak WS lines are modestly priced. They'll likely be about the same price as the mid-level touring or passenger tires already on your car.
Blizzak tires for your light truck or SUV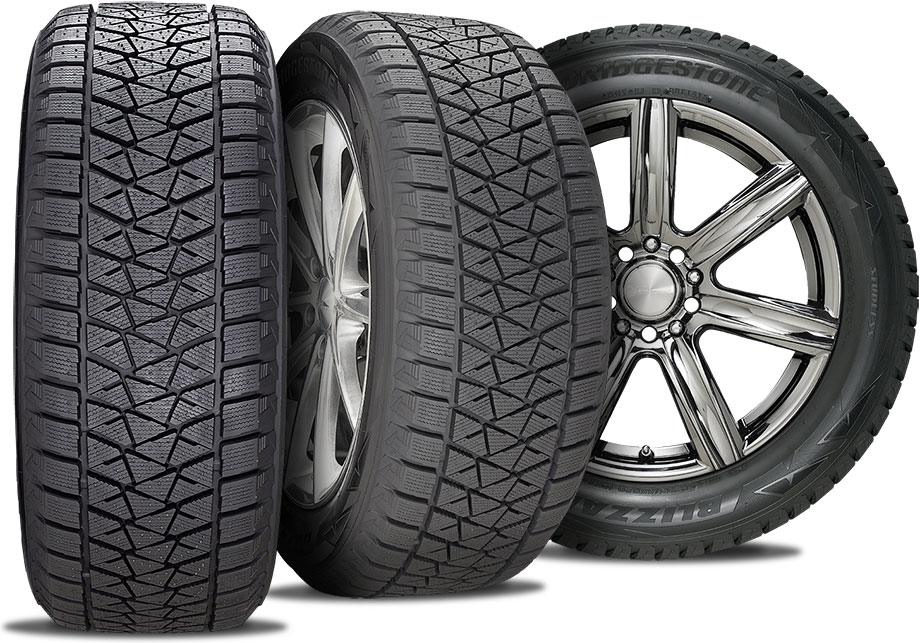 When harsh winter weather hits, even the best all-terrain or mud-terrain tires on your truck won't match the performance of a dedicated winter tire. (Get more details on what to expect from your all-terrain or mud-terrain tires in snowy conditions.) Bridgestone knows this well and has Blizzak lines dedicated for light trucks, vans, crossovers and SUVs.
The Blizzak DMV2 is the popular choice for SUVs, crossovers and light trucks. Besides the cold-weather handling and stopping power expected of all the Blizzak lines, Bridgestone incorporates "bite particles" on the tread of the DMV2 for additional traction and control on ice.
For commercial light trucks and vans, consider the Blizzak W965. It has large tread blocks for grip in slush, snow and ice. The W965 may be the best choice for delivery vehicles or for those in trades that require them to be on the job no matter what the weather conditions dictate.
Blizzak tires for performance vehicles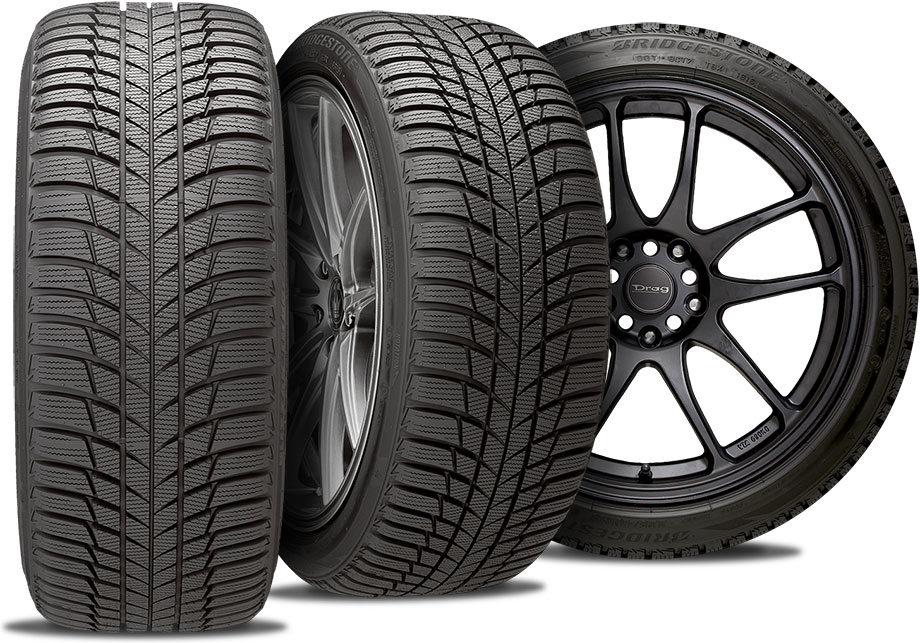 Your performance vehicle deserves performance tires in good weather, so why not also in the ice and snow? Though less affordable than the WS lines described above, the Blizzak LM lines are priced comparable to their respective high-performance all-season and summer tire counterparts. And though they may give up some of the grip of the WS lines, you can expect confident handling out of your sports car or sedan in winter weather.
The Blizzak LM001 is the flagship of Bridgestone's performance winter tires. Just because it's under 45 degrees outside doesn't mean you have to garage your high-powered vehicle for the winter. If anything, the LM001 should still help to lay down a familiar feeling of drivability for your sports car in the winter, even if they still won't perform up to the spec of summer or other performance-oriented tires in dry conditions.
Depending on your vehicle and/or budget, another performance winter tire to consider in the Blizzak family is the LM-60. These tires are also engineered for grip and control on performance sedans and coupes in wet, dry, icy, slushy and snowy conditions.
And what about luxury cars? The LM-32 was designed for luxury vehicles to continue their premium performance and ride comfort into the winter months on any snow-covered road you might encounter.
Similar to high-performance tires, you can't expect a lot of longevity from high-performance winter tires; they'll most likely only last one or two snow seasons. To keep you safe, the Blizzak LM models have specific tread depth indicators to show you when it's time to discontinue using them.
A cool change for the winter
Anyone who's dealt with winter driving conditions in tires that were not up for the challenge knows the value of good winter tires. When it's time to switch, consider tires from the Blizzak family. They're readily available and have the track record to instill peace of mind throughout the winter.
Switching out your tires twice a year might seem like a hassle, but we're here to make it easy. Whether you go with Bridgestone or another brand of winter tire, our priority is your safety on the road. Call or come into your neighborhood Discount Tire to talk with an expert who can help you find the best one for your vehicle this winter.
Be sure to check out all the Bridgestone Blizzak tires we carry and make an appointment for installation!