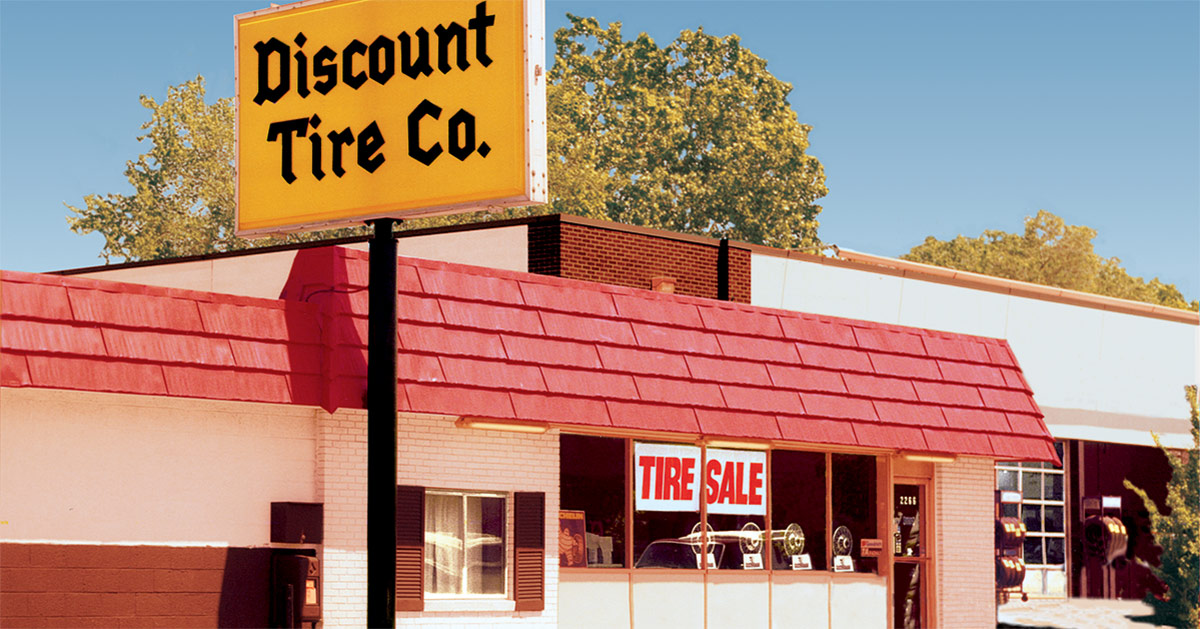 -
Our Story: How We Started
Discount Tire first opened its doors in 1960, when Bruce T. Halle rented an old plumbing supply building on Stadium Boulevard in Ann Arbor, Michigan. Bruce cleaned out the building, built countertops, repainted the sign outside, and displayed his initial six-tire inventory. As the store's only employee upon its opening, Bruce served as the tire technician, cleaning crew, salesman, and accountant. Because he didn't have an air compressor, Bruce would even haul a portable air tank to and from a nearby gas station so that he could inflate the tires he sold. Over time, Bruce nurtured that first Discount Tire store through hard work and a governing philosophy that now serves as Discount Tire's founding principles: treat people with respect and fairness, care for those in need, always do what is right, work hard, be responsible, and have fun. By the end of the decade, our company grew to six stores and established a strong reputation for customer satisfaction.
In 1970, we moved out west to Arizona to expand our national footprint. Strategically chosen for its warm weather, Arizona offered our growing company two distinct advantages: steady seasonal business and perpetual sunshine that would preclude employees from changing tires in cold, wintry conditions. Throughout the 1970s and 80s, we expanded outward from our new home base, building stores in California, the Pacific Northwest, Texas, Florida, and other new regions. We quickly reached over 200 stores in 1990, and over 400 in 2000. Today, we are the nation's largest independent tire and wheel retailer, operating more than 1000 stores in 35 states. We have undertaken this growth in a responsible manner, scouting every potential store location in person to ensure the store can succeed and that employees can comfortably live in the surrounding area.
The Discount Tire story has been discussed as a model of strong entrepreneurship, but our success can't be attributed to the business aspects of running a business. Instead, we've flourished because of the respectful, can-do attitude that began at Bruce Halle's first store and later solidified into a company vision. Through honesty, service, and a willingness to pay it forward, we provide unexpected experiences that delight our customers and keep them coming back for more. To this day, Bruce Halle attributes the overall success of Discount Tire to these healthy attitudes and the employees who live them. From his perspective, success comes from focusing on what each person owes to his family, to the future generation of employees, and to the next customer coming in the door.
Learn more about our company from the following publications: Forbes, The Wall Street Journal.