Discount Tire Sponsors IndyCar Drivers
From talking with our customers about what tires are the best for their needs or heading to a day at the races, we at Discount Tire are passionate about all things automotive. That's why Discount Tire has partnered with Team Penske to proudly sponsor drivers Josef Newgarden and Simon Pagenaud of the Verizon IndyCar Series (VICS).
Discount Tire IndyCar Drivers Race Schedule
Don't want to miss a single race? Check out the 2020 IndyCar racing schedule and catch all the action for yourself!
2020 INDYCAR RACING SCHEDULE
March 15 at Streets of St. Petersburg
April 5 at Barber Motorsports Park
April 19 at Streets of Long Beach
April 26 at Circuit of the Americas
May 9 at Indianapolis Motor Speedway
May 24 Indianapolis 500 Mile Race
May 30 at Streets of Detroit - Race 1
May 31 at Streets of Detroit - Race 2
June 6 at Texas Motor Speedway
June 21 at Road America
June 27 at Richmond Raceway
July 12 at Streets of Toronto
July 18 at Iowa Speedway
August 16 at Mid-Ohio Sports Car Course
August 22 at World Wide Technology Raceway at Gateway
September 6 at Portland International Raceway
September 20 at WeatherTech Raceway Laguna Seca
Discount Tire IndyCar Sponsorship Drivers
Check out the bios for Discount Tire drivers Josef Newgarden and Simon Pagenaud below to learn more about their stellar IndyCar careers!
Josef Newgarden Bio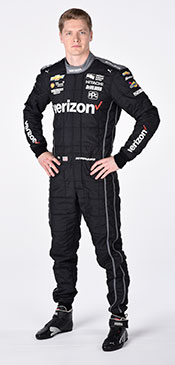 Josef Newgarden enjoyed a dream first season with Team Penske in 2017 as he captured the Verizon IndyCar Series (VICS) championship and established himself as a true star of the sport and then accomplished the feat again in 2019. Newgarden will look to raise the bar even higher in 2020 as he'll carry the champion's No. 1 on the Verizon/Hitachi Dallara/Chevrolet this season for Team Penske.
After joining Team Penske in October 2016, it didn't take long for Newgarden to make his mark in the record books of the winningest team in INDYCAR history. He closed the 2017 season – Newgarden's seventh year competing in the Verizon IndyCar Series – with the team's 15th series title and its 30th championship overall. For the season, Newgarden posted 10 top-five and 13 top-10 finishes while leading at least one lap in a series-best 12 races.
Newgarden began his motorsports career at 13 years of age at New Castle Motorsports Park in Indiana where he won numerous karting titles between 2006-2008. After racing in Europe for a few years, he returned to the United States in 2011 and captured the Indy Lights championship for Sam Schmidt Motorsports, recording five wins and 10 podium finishes in 14 starts. The performance earned Newgarden an opportunity at Sarah Fisher Hartman Racing for the 2012 Verizon IndyCar Series season.
As he works to become a back-to-back Verizon IndyCar Series champion in 2018, Newgarden will also look to add to his rapidly-growing list of achievements by trying to earn his first Indianapolis 500-mile victory.
Newgarden resides in the Charlotte, North Carolina area.
Simon Pagenaud Bio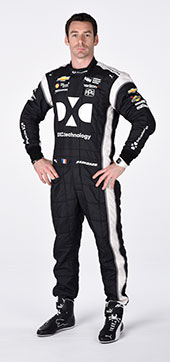 In 2020, Simon Pagenaud returns to the No. 22 Menards/DXC Technology Dallara/Chevrolet looking to continue his remarkable record of production in the Verizon IndyCar Series (VICS). Pagenaud brings the perfect blend of speed and strategy, fresh off his victory of the Indy 500 in 2019. Now in his fifth season with the team, he is capable of producing race wins and pole positions every time he attacks the track. In his three previous seasons with Team Penske, the Frenchman has scored seven wins, nine Verizon P1 Pole Awards and the 2016 Verizon IndyCar Series Championship.
His second season with Team Penske proved magical for Pagenaud as he was crowned 2016 Verizon IndyCar Series Champion after leading the series in just about every key statistical category including wins, poles, podiums and laps led. The Frenchman's first VICS title represented the 14th open-wheel crown and 29th championship overall for Team Penske, coming in the organization's landmark 50th season of racing. He produced five wins and seven Verizon P1 pole awards in 2016, edging teammate Will Power for the title when Pagenaud won the series finale at Sonoma Raceway in convincing fashion. The championship run led a Team Penske 1-2-3 finish in the season standings.
In 2020, Pagenaud will return to compete in the No. 22 Menards/DXC Technology Chevy as he attempts to win his second series crown in three seasons. Calling upon his winning history is sports car competition, the 33-year-old Pagenaud will also compete in select IMSA WeatherTech SportsCar Championship endurance races for Team Penske's Acura DPi program.
Pagenaud's favorite activities away from the track include cycling, surfing and skiing. He makes his home in the Charlotte, North Carolina area with his fiancée Hailee and their dog Norman.
Good Deals on Great Tires at Discount Tire
At Discount Tire, we pride ourselves on providing the lowest prices, guaranteed. That's why we offer great deals on exclusive tires. So, if you need new tires, check out our promotions for great deals on the best tires.